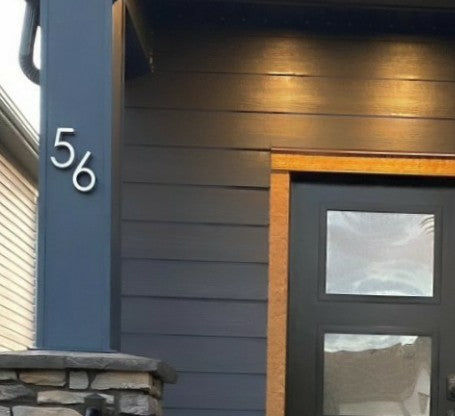 What Size Do House Numbers Need To Be in Canada?
The metal house numbers provide convenience for delivery services, customers and visitors, so that they can easily find your home. While there is no one single exact rule for Canada wide, here are some tips that might help you determine what size do you need or at least give you an idea:
Things To Consider Before Buying house numbers
The size of your house numbers should be considered within the overall presentation of your home. They should fit in with and complement your overall landscape. When it comes to the best size for house numbers, the bigger they are, the most amount of attention and functionality they create. This is true because the main goal of your numbers is to grab the viewer on the road's attention the moment they see it.
What Size of House Number Do I Need?
As a general rule of thumb, stick with 6-8 inches in height. That's generally seen as an acceptable height to read from a car going by at 60km/h. That will ensure that each letter is clearly visible from the street if there are no fences or other structures blocking them from view. You can find a specific height conveniently using the link here House Numbers Canada
Bigger May Actually Be Better
If you're working with a bigger space, don't be afraid to go bigger. House numbers, even though they may be a small addition, can go a long way in making modernizing and increasing the value of your home.
House Numbers Canada

Check out our products here for easy customizable numbers. Click the link to check out our premium metal house numbers.